WHAT:(Illegal) Immigrant advocates shared plans for a
"full participatory process" resulting in an "Illegal Immigrant
City Agenda" to be presented to the new Administration during
WHEN: Monday, November 4th, 11:00 AM
WHERE: Steps of NY City Hall
ILLEGALS UNITED FOR JUSTICE AND OPPORTUNITY
10 End Unlawful Police Practices & Surveillance of
Muslim, Immigrant Communities introduced by Sarsour
(held by Faiza N. Ali, Organizer & Muslim community activist)
9 Fight for DREAMers and Immigrant Youth
(introduced by Sarsour/Held by SEIU 1199 Rep)
8 Fight for Legal Indentification Documents and Licenses
for Undocumented Residents (held by Faiza N. Ali)
7 Ensure Resources For Services to Immigrants
6 Support for Fair Treatment of Immigrant Workers
5 Support Immigrant Students' Path to Success
4 Expand Civic Participation of Immigrant Communities
(Sarsour Holds this sign)
3 Support Fair Economic Development in Immigrant
Communities (held by Faiza N. Ali )
2 Ensure Access for Health Care For all
(Sarsour holds this sign)
1 Play an Active Role in Promoting Immigration Reform,
Stopping Unjust Deportations (SEIU/1199 Rep held this sign)
.
++
Part 1 of 2 Videos :The Coalition Released New York's
(illegal) Immigrant Wish List Ahead of the 2013 NYC Mayoral
Election; a "Top 10 Wish List" of Priorities for the next Mayor
of New York City and
ANOTHER election illegals plan to
vote in
(" a full participatory process" )
• Steven Choi, executive director, New York Immigration Coalition
• Linda Sarsour, Director, Arab American Association of
New York
(she speaks from 2:39-4:31
• SJ Jung, board president, Minkwon Center for Community Action

• Bakary Tandia, policy advocate, African Services Committee

• Elsie Accilien, executive director, Haitian-Americans United

++
.

• Angela Fernandez, Director, Northern Manhattan Coalition
for Immigrant Rights
(First 2-3 minutes -
SPANISH only)
• Guillermo Chacon, NYIC board chair and Director,
Latino Commission on AIDS
NOVEMBER 5, 2013. VOTE LIKE YOUR LIFE DEPENDS ON IT.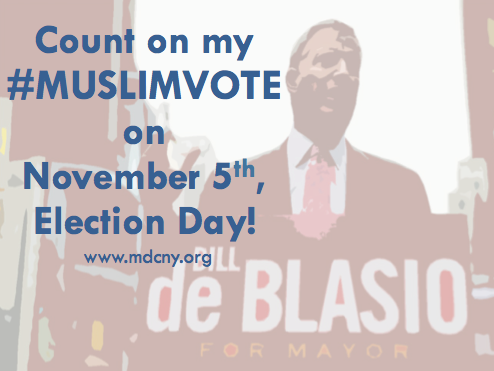 WAKE UP, NY. This is your Last Chance (for awhile)
to STOP the "Progressive" madness.

















TOMORROW : VOTE AS THOUGH YOUR LIFE DEPENDS ON IT.























.
The Illegal Immigrant Advocates

KNOW...
EVERY VOTE REALLY DOES COUNT!
++