Even so , "Takbir's" and "Allahu Akbar's" would ring through the air.
Block after block. Down Madison Ave
Madison Avenue -from 38th to 26th St-
Perhaps it was a red-flag denoting trouble amongst the Muslim factions.
This year's press conference stressed how difficult it is to be a Muslim - American, maybe they were trying to explain the missing groups. (Fear? Intimidation?)
VIDEO of press conference
Will the Turk-undertaker, Erhan Yildirim,
a respected Community Co-ordinator for
the NYPD (seen on his phone below)
educate the NYPD to
fight (or to ignore) Sharia abuse? They'll probably learn that abuse is the problem, not Islam.
T
he Puerto Rican Muslim above, wearing the "fakestinian" scarf, did a lot of talking with the press. Wonder if he would have been so chatty if asked about Sharia vs American Law.
Missing were the many colorful multi-ethnic costumes and hijabs
BUT, these two new participants on the sidelines, were peaceful protestors with a serious message.
Such a beautiful child. With a Peace Rose and Old Glory....
With the women kneeling behind the men...
Madison
Avenue, once again, converted into a very public masjid. (see VIDEO next)
T
hen we marched, l
ead by the NYPD Marching Band
(No mounted color guard this year)
Linda Sarsour (running for office soon, I hear), Debbie Almontaser, Rabbi Michael Feinberg and his Leftie Jewish associates. Councilman Jackson (a Muslim revert) and Marxist loving, Charles Barron.
10,000 in attendance? Not as they marched. (Or prayed)
Shamsi Ali: The rise and fall of a New York imam
As usual, there were a couple of non-Muslim factions marching. About 6 people from a multi-faith group of Christians and Jews
(
Expecting Miracles
)
With two familiar hard-core lefties who always march for "fakestine".
"Muslim-Americans want PEACE." They support "God and Country."
Imam Shamsi Ali
said it was important to show "
there's no contradiction between being a good American and a good Muslim at a time when some people are conflating the actions of terrorists with Islam. "Inherently American values and Islamic values are in line,"
he said.
"It is about democracy, it is about freedom, it is about religious tolerance, it is about working together with all people. Justice for all."

Zaki Abdul from East Harlem

said he [came out] to show what a large gathering of Muslims looks like.

"Muslims generally are people of peace,

those people who are really subscribed to Islam according to Islam,

"

he said.

"People should see that."
Found this twitter post/picture of Khizr Khan speaking ....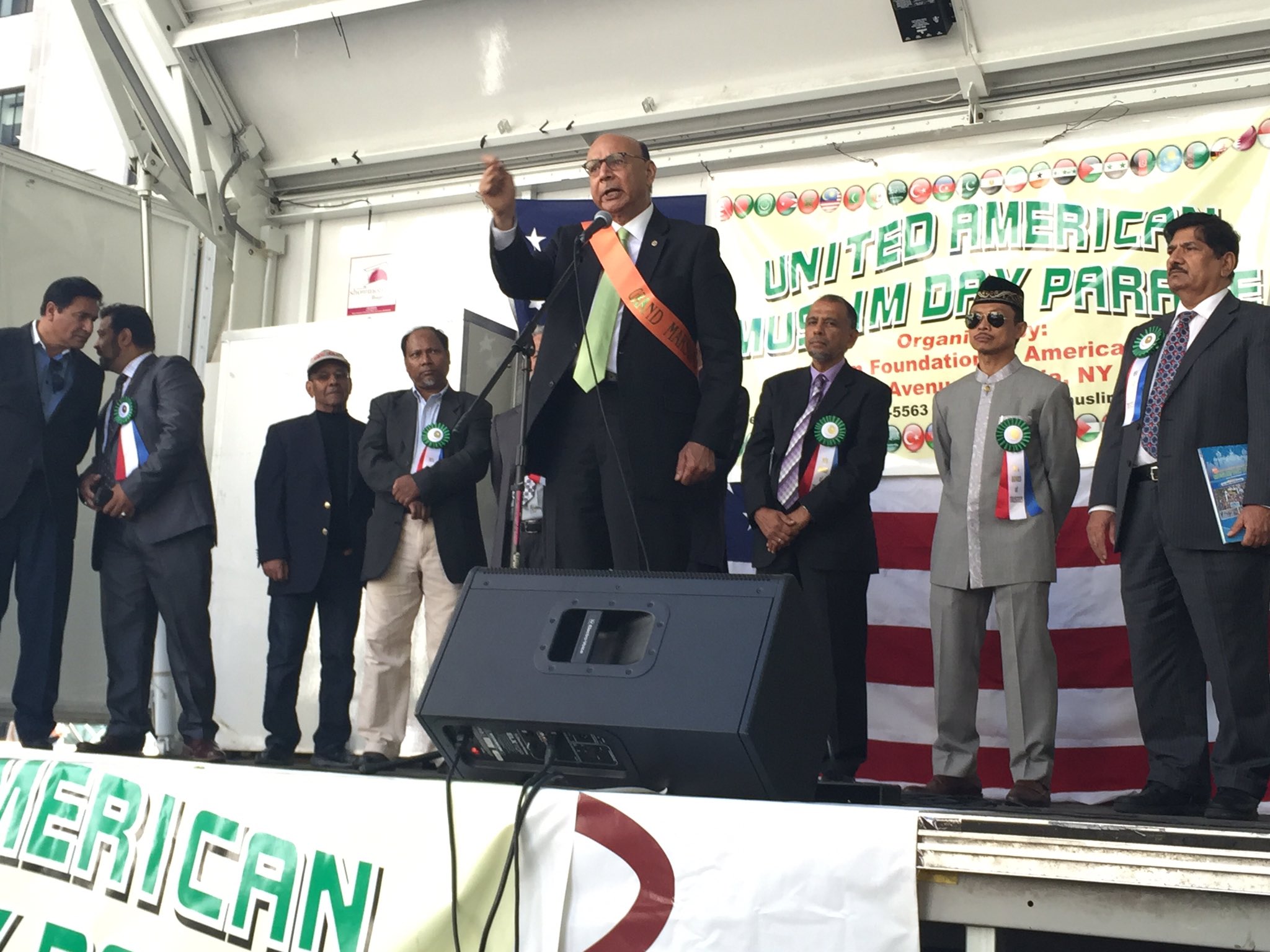 "

Be part of interfaith activities, be part of the community and be part of the solution" Khizr Khan, Grand Marshal at the Muslim Day Parade
And from Pamela Geller, who is very much a PART of the solution.
"